Approximately 40 people from 19 APAVE subsidiaries worldwide gathered at APAVE SEE (Macedonia), Europe on May 16th, 2018, meeting on the advanced non-destructive testing service in the field of Oil & Gas.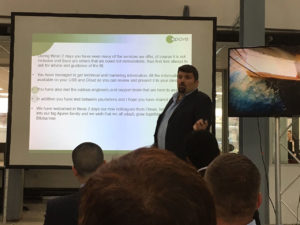 Experts in each field conducted demonstrations, using the latest equipment. It was a very meaningful meeting. Details are on the link below (It is planned to update soon.)
Advanced non-destructive inspection services in any countries
APAVE provides advanced non-destructive inspection services to Asian countries such as Indonesia, Malaysia, Singapore Vietnam, MEA, Africa and Euro.
Example of NDT service
Phased Array Mapping PAUT
Close Proximity Radiography SAFERAD or SCAR
Long Range Ultrasonic Testing LRUT
Pulsed Eddy Current corrosion inspection PEC for CUI
Corrosion Under Inspection (CUI) Investigation
High Speed Remote Access C-Scan Corrosion Mapping System
Flange / Bolt inspection on operating plant
Time of Flight Diffraction (TOFD) method
Alternating Current Field Measurement ACFM
Rope Access NDT
Infrared Thermography